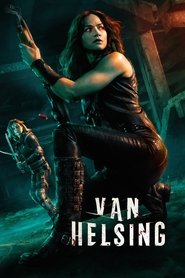 Van Helsing - Season 1
Van Helsing - Season 1 is a movie starring Kelly Overton. Vanessa Helsing, the daughter of famous vampire hunter and Dracula nemesis Abraham Van Helsing is resurrected five years in the future to find out that vampires have taken over the world and that she possesses unique power over them. She is humanity's last hope to lead an offensive to take back what has been lost.
Rated: 6.6/10 with 274 votes.
Genre: Mystery, Sci-Fi & Fantasy, Action & Adventure
Actor: Kelly Overton, Jonathan Scarfe, Christopher Heyerdahl, Rukiya Bernard, Vincent Gale, Aleks Paunovic, Keeya King, Neal McDonough, John Cassini, Nicole Muñoz, Caroline Cave
Director:
Duration: 42 min.
Quality: HD
First Air Date: Sep 23, 2016
Last Air Date: Dec 20, 2019
Production: Syfy
Views: 25.731