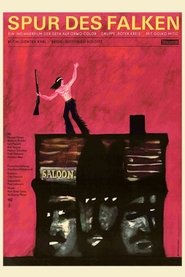 Trail of the Falcon (1968) Stream Online Free
In the latter half of the 19th century, gold is discovered in the Black Hills, an area which has already been allocated to the Dakota Indians as a winter reservation in a treaty. Nevertheless, gold diggers, profiteers and adventurers flock to the region. Among them is the hard-hearted land speculator Bludgeon, who tries to expel the Indians using brutal methods like slaughtering entire herds of buffalo. The Dakotas take their revenge by attacking a Union Pacific train. While Chief Farsighted Falcon and his men are out hunting, Bludgeon and his gang massacre the Indian village. The Dakota warriors retaliate and soon the gold diggers' town becomes the scene of a giant battle.
Actor: Gojko Mitić, Barbara Brylska, Holger Mahlich, Hannjo Hasse, Lali Meskhi, Rolf Hoppe, Hartmut Beer, Helmut Schreiber, Fred Delmare, Milan Jablonský, Fred Ludwig
Director: Gottfried Kolditz
Country: East Germany, Soviet Union
Rated: 3.7/10 with 6 votes.
Duration: 121 min.
Quality: HD
Release: Jun 21, 1968
Production: Georgian-Film, DEFA, Künstlerische Arbeitsgruppe ''Roter Kreis''
Views: 3.546