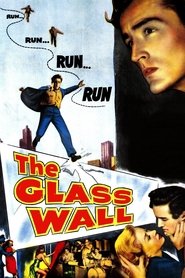 The Glass Wall (1953) Stream Online Free
Peter Kaban, a Hungarian refugee, is about to be deported after jumping ship in New York harbor. He needs to find an ex-G.I named Tom whom he helped during the war, as Tom.can prove Peter's right to legal entry iof the United States. It is a race against the clock! If he can't find Tom within 24 hours and prove his case, he will be branded a fugitive and will be permanently disqualified for U.S. citizenship.
Genre: Drama
Actor: Vittorio Gassman, Gloria Grahame, Ann Robinson, Douglas Spencer, Robin Raymond, Jerry Paris, Elizabeth Slifer, Richard Reeves, Joe Turkel, Else Neft, Michael Fox
Director: Maxwell Shane
Country: United States of America
Rated: 5.6/10 with 10 votes.
Duration: 82 min.
Quality: HD
Release: Mar 19, 1953
Production: Columbia Pictures
Views: 3.597