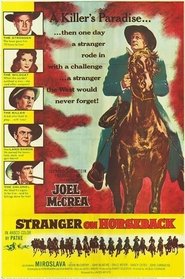 Stranger on Horseback (1955) Stream Online Free
A circuit judge in the old west attempts to bring a suspected killer to justice. The judge runs afoul of the killer's rich cattle baron father in the process.
Actor: Joel McCrea, Miroslava, Kevin McCarthy, John McIntire, John Carradine, Nancy Gates, Emile Meyer, Robert Cornthwaite, Jaclynne Greene, Walter Baldwin, Emmett Lynn
Director: Jacques Tourneur
Country: United States of America
Rated: 4.8/10 with 6 votes.
Duration: 66 min.
Quality: HD
Release: Mar 22, 1955
Production: Robert Goldstein Productions, United Artists, Leonard Goldstein
Views: 2.048