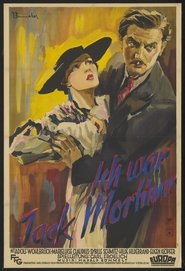 I Was Jack Mortimer (1935) Stream Online Free
The jealous star conductor Montemayor knows that his beautiful younger wife, Winifred, is cheating on him with an American named Jack Mortimer. After the concert rehearsal, he takes a taxi to the train station, sees Mortimer and shoots him at an intersection from the backseat of his taxi. The shot is not heard during the traffic noise. The taxi driver, Sponer, sitting in his car with the now-dead Mortimer, goes into a panic.
Actor: Adolf Wohlbrück, Eugen Klöpfer, Sybille Schmitz, Marieluise Claudius, Hilde Hildebrand, Max Gülstorff, Maria Loja, Heinz Salfner, Jochen Hauer, Georg A. Profé, Hugo Drahower
Director: Thea von Harbou
Country: Germany
Rated: 0/10 with 0 votes.
Duration: 85 min.
Quality: HD
Release: Oct 16, 1935
Production: Carl Froelich-Film GmbH (I)
Views: 0.86